What You Need To Know About Reverse Shampooing
DISCLAIMER
This blog does not intend to provide diagnosis... Read More

This blog does not intend to provide diagnosis, treatment, or medical advice. Read more. The content provided on this blog is for informational purposes only. Please consult with a physician or other healthcare professional regarding any medical or health-related diagnosis or treatment options. Information on this blog should not be considered as a substitute for advice from a healthcare professional. The claims made about specific products throughout this blog are not approved to diagnose, treat, cure, or prevent disease.
In this article: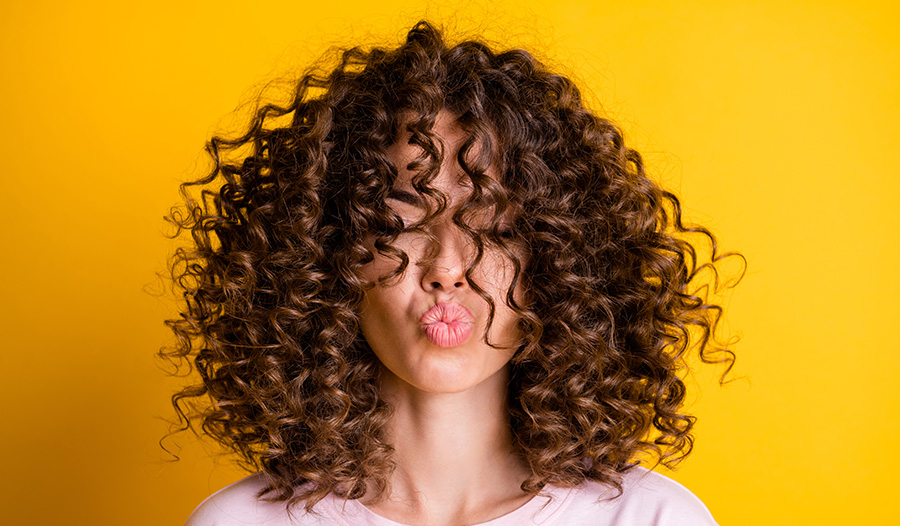 My hair goes through many ups and downs. At one point I even started to put my hair in a bun more often and neglect it because it was not easy to manage, and it became an extra chore. My hair needs some extra TLC sometimes, and find it useful to switch my routine every couple of months.
My Journey with Reverse Shampooing
When my hair became unmanageable, I experimented with different methods to see what worked and what didn't. I discovered, to my surprise, that using conditioner before shampoo is better for my hair!
This trend of "reverse shampooing," or conditioning before washing, helped restore natural beauty to my hair. I have curly 3b hair and live in a very dry environment, but I believe this method can work for most hair types and climates. Reverse hair washing helps flat, dry, frizzy, or damaged hair. So, if any of those are something your hair is experiencing, give this a try. I am generally skeptical about these things, especially since the texture of my hair can make caring for it complicated, and I was impressed by the results: this method helped allow my hair to do its thing without me feeling stressed, or without it becoming a big frizz ball. Keep reading to find out what products have supported my reverse wash journey!
Start with Conditioner
A deeply hydrating conditioner is extremely important for my hair, especially when I was experimenting with this method. Whether I'm in a warm climate or a cool climate, my hair is always craving hydration and slip—or the quality of feeling lubricated after applying a hair product.
Shea Moisture Manuka Honey & Mafura Oil Conditioner has been a product I always go back to. I accidentally stumbled upon it when I slept over at my friend's house. The smell is also to die for—like a tropical paradise. And after using it, I realized that I would have to buy my own bottle. It's great… and it will last you a long time! I like this product because it's great for dry, damaged, and color-treated hair and uses no parabens, phthalates, and mineral oils—and it quenches my curls effectively. This product is also protein-rich and helps rebalance hair. A protein-rich conditioner is especially important because my hair has experienced some damage, and having the protein boost helps my hair tremendously.
Next, Use Standard Shampoo
Sometimes I like a shampoo that just cleanses, removes odors such as sweat from the day, and doesn't do the intense job of fully clarifying the hair. I also enjoy using a moisturizing shampoo that helps restores my hair throughout the week.
My favorite product is the Curlsmith Core Strength Shampoo For Damaged Hair. It is an incredibly gentle shampoo that gets the job done! This product is vegan and cruelty-free and uses amazing ingredients like pumpkin seed oil, guava juice, wild rice protein, and pressed hemp oil! Using two different kinds of shampoos is usually what I do because the clarifying shampoo is used maybe a couple of times a month, and the regular shampoo 2–3 times a week. This shampoo has been a great addition to my reverse washing method!
Or Clarifying Shampoo If You Need It
Having a shampoo that cleanses the scalp and maintains your hair's moisture is simply essential. Clarifying shampoos may add volume for fine & straight hair, plus they help remove build-up, which is great for people with textured hair because of all the products we have to use! Clarifying shampoos also rejuvenate and refresh, prevent bacterial growth in the scalp, restore the hair's natural pH balance, prepare it for coloring, and prevent blonde hair from turning brassy. It's been difficult to find the right shampoo that checks all of those boxes for me.
An incredible shampoo to have in your curl routine that does all of the above is the As I Am Curl Clarity Shampoo.
Massage Your Scalp with A Scalp Exfoliator
If you want to remove buildup that may cause dandruff, plus want to stimulate and stretch your hair follicles, allowing your hair to grow stronger and healthier, you need a scalp massager! This tool, which is not talked about enough in my opinion, has truly changed my hair routine for the better. I am never looking back!
The massager I use is the Giovanni Scalp Massager & Shampoo Brush, and it helps your scalp feel rejuvenated and invigorated. Massaging your scalp every week feels incredible because it reduces the tension and stress that the scalp holds and increases the blood circulation to this part of your body. The scalp massager is suitable for all hair types. It can be used on a dry scalp or to incorporate growth serums, or as a tool for a scalp scrub! Scalp exfoliation helps remove dead skin and product buildup.
Remove Buildup with A Scalp Scrub
Once a week, it's great to remove build-up by exfoliating the scalp to help unclog follicles, increase circulation for growth, and relieve itching.
The Renpure Apple Cider Vinegar Scalp Scrub is a great addition to my hair routine. Due to a lack of stimulation and blood circulation, a dry scalp will not promote hair growth but rather slow it down or cause shedding. Doing a scalp scrub is super relaxing for me, and it is an excellent addition to my self-care practice. I have noticed a difference in the maintenance of the health of my hair! Apple cider vinegar is an incredible natural ingredient that rebalances the natural oils and supports the health of the scalp.
Don't Forget A Deep Conditioning Treatment
To further condition the hair before shampooing, try a deep-conditioning treatment!
I use the Sky Organics Curl Care Treatment Mask, which gives my curls sustainable moisture when my hair feels extra dry. This treatment also supports my hair gaining more bounce, reduces breakage, and increases softness. Once a week, I use a generous amount on damp hair, leaving it for 20–30 minutes and then rinsing it out before hopping out of the shower. This masque, which is safe for color-treated hair, is for you if your hair is seeking moisture, flexibility, nourishment, and shine! It's worth mentioning that it has brought my hair back to life many times. It's my new favorite treatment and perfect for the summer because the hair tends to become dull with the weather changes. It's made with organic castor oil, nourishing mango butter, and rice protein which are all-natural and incredible for your hair's health!
Detangle with Leave-In Conditioner
It took years for me to find the right leave-in conditioner for my hair. Leave-in is something you should prioritize in your daily routine.
Look no further than Camille Rose's Curl Love Moisture Milk. It is my favorite leave-in conditioner and does an incredible job moisturizing my hair effectively. After doing my reverse hair washing routine, I brush my hair with a wet brush and wide-tooth comb and lather my hair with this fantastic product, which softens and strengthens my hair. It also helps detangle and controls the frizz! The best part is that it's suitable for all hair types, natural and color-treated, and all styles.
Protect with Heat Protectant
If you plan to style your hair after reverse washing, don't forget to use a heat protectant! Taking preventive measures to protect the hair allows you to have a more manageable and easy time styling your hair the way you want! Although my hair is curly, and I generally love to keep it natural, there are occasions when I do a blowout for fun.
The Giovanni 2chic Ultra Sleek Flat Iron Styling Mist helps prevent the cuticle from being exposed to extreme heat. This fantastic cruelty-free product contains 100% vegetarian Ingredients that may help nourish brittle hair and restore the scalp's moisture. It also has panthenol or vitamin B5, which seals the hair's surface to protect it from heat, whether from the sun or heat tools, especially on those scorching summer days. Additionally, it has a nice scent that I enjoy very much!
Prep With Mousse
A great tip I received from hairstylists for further styling the hair is to prep the hair with mousse. A mousse will give your hair so much volume, and it will support you in achieving smoothness and control. I also love mousse because it doesn't leave my hair feeling sticky and frizzy.
The Giovanni 2chic Ultra-Volume Foam Styling Mousse is also incredible for most types of hair! I was hesitant when I first experienced my hairdresser putting mousse in my hair, but I had the best blowout ever! Mousse also helps lock moisture and add hold to any style you put your hair in!
Seal with A Moisture Serum
After styling, I love to seal and lock moisture with a good moisture serum as the last step in my hair routine, and I love the Giovanni 2chic Ultra-Moist Super Potion Anti-Frizz & Binding Serum Oil. A serum can help control frizz if your hair feels weaker and more damaged than usual. It reduces tangles, shines the hair, enhances curls and waves, and protects against environmental and heat damage. I've been using a serum and have noticed the difference—it definitely helps to maintain my hairstyle longer!
Reverse Shampooing Might Be Just What You Need
If you need a pick-me-up in your routine, definitely give reverse shampooing a try. It might work wonders to rejuvenate your hair. It did for me!